Hardware Oblate Strip POM Anchor Plate with Adhesive Security Plate for Laptop cable lock WS
Product Detail
Product Tags
Model No.
Description
Overall Size
Slot Hole Size
Material
mm
mm
WS-LCL12
POM Anchor Plate with Adhesive for laptop
20 x 42 x 6.8
3 x 7
POM Plastic
●Item Type: Hardware Anti-theft Anchor Plate
●Unit Weight: 0.002 KG (0.005 lbs).
●Color: White and Black are available.
●Material: POM Polyoxymethylene.
●Description: Anti-theft Anchor Plate for laptop, phone, equipment.
●Packaging including: 1xAnchor Plate, 1x3M Adhesive, 1x Alcohol pad.
●For use with: Suitable for many devices: suitable for most mobile phones, iphones, smartphones, tablet MacBooks, pads, ipads, walkie-talkies, monitors, televisions and other electronics.
●How to Use Anchor Plate: Adhesive plate locking mount with a built-in security slot to secure devices in any environment,Works with all tablets, with for smart phones, laptops, macbooks,iPad, notebooks. Please see following to show how to use Adhesive plate: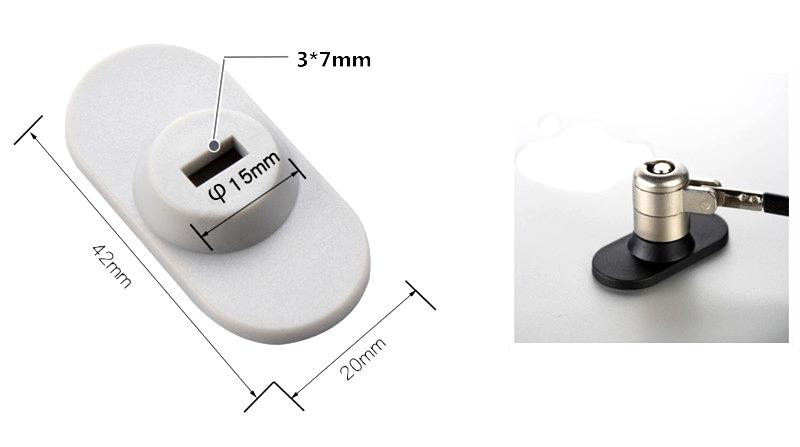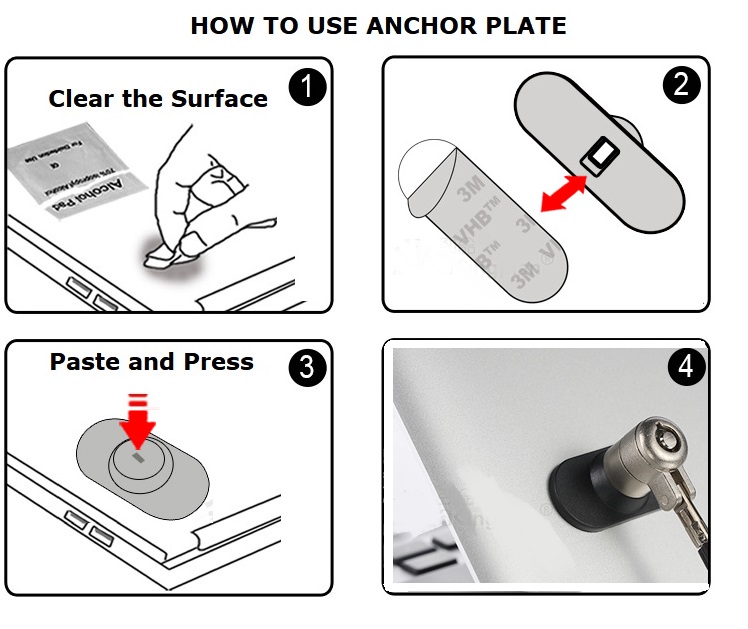 ●Colors Available: Silver, Black...
●Sample: Sample is free, but excluding delivery fee.
●Guarantee quality: Always a pre-production sample before mass production.
Always final Inspection before shipment.
●Anti-theft: 3M super sticky industrial glue can provide high security for your equipment. After 48H is used for the first time, the best sticking effect can be achieved. It can withstand 100lb of vertical gravity. The tape is easy to clean and has no residue, thereby reducing the risk of damage to the tablet It also saves precious time.
Be sure to press the Adhesive Anchor Plate for around two to five minutes to make sure it fix completely. After 48H is used for the first time, the best sticking effect can be achieved. The Anchor Plate shall use with other laptop cable lock, the package not including cable lock.
Customer Service: Friendly and quick customer service, if you have any product questions, please feel free to contact us.
---
---
---